Late effects: Women's health problems
The effect of therapy on the female reproductive function depends on many factors, including age at the time of therapy and the specific treatment that was given. It is important to understand how the ovaries and female reproductive organs function and how they may be affected by therapy given to treat blood disorders.
The female reproductive system
At birth, the ovaries contain all the eggs they will ever have. When the time comes to begin puberty, the pituitary gland in the brain signals the ovaries by releasing two hormones (FSH and LH). The ovaries secrete the female hormones oestrogen and progesterone, which are necessary for reproductive function.
Normally, during a monthly menstrual cycle, one egg matures and is released from the ovaries. If the egg is not fertilised, menstruation begins. The cycle then repeats itself about every 28 days. With each menstrual cycle, the supply of eggs decreases. When most of the eggs are depleted from a woman's ovaries, menopause begins. During menopause, the menstrual cycles stop, the ovaries stop making hormones, and the woman is no longer able to become pregnant.
How does treatment affect the ovaries?
Certain chemotherapy drugs, radiation therapy, and surgery can sometimes damage the ovaries, reducing the reserve supply of eggs. When the ovaries are not able to produce eggs or hormones, this is called ovarian failure.
Chemotherapy of the alkylator type (such as cyclophosphamide, melphalan and busulfan) is most likely to affect ovarian function. The total dose of alkylators used during treatment is important in determining the likelihood of ovarian damage. With higher total doses, the likelihood of damage to the ovaries increases. If treatment included a combination of both radiation and alkylating chemotherapy, the risk of ovarian failure may also be increased.
The following drugs may cause ovarian failure if given in high doses.
Alkylators
Carmustine (BCNU)
Lomustine (CCNU)
Chlorambucil
Procarbazine
Ifosphamide
Thiotepa
Non-classical alkylators
Heavy metals
Radiation therapy can affect ovarian function in two ways:
Primary (direct) failure of the ovaries can be caused by radiation that is aimed directly at or near the ovaries. The age of the person at the time of radiation and the total radiation dose can affect whether or not ovarian failure occurs. Generally, younger girls tend to have less damage to the ovaries than people who received equal doses but who were older at the time of radiation. However, higher doses usually cause the ovaries to stop functioning in most females regardless of age.
Secondary (indirect) failure of the ovaries can occur as a result of radiation therapy to the brain. The pituitary gland, located in the centre of the brain, regulates the production of two hormones (FSH and LH) needed for proper ovarian function. Radiation to the brain at higher doses can damage the pituitary gland, leading to low levels of these hormones.
Radiation therapy to any of the following areas may be associated with increased risk:
Whole abdomen or pelvis
Lower spine (lumbar and sacral areas) – if dose was 25 Gy or higher
Total body (TBI)
Head/brain (cranial) – if dose was 40 Gy or higher
What are the possible effects on the female reproductive system?
Temporary cessation of menstrual cycles
Many females who are menstruating will stop having monthly periods during their therapy. In some cases, menstrual cycles will resume sometime after treatment ends, although the timing of this is unpredictable - it may take up to several years to restart menstruation. Since eggs are released before the menstrual cycles, pregnancy can occur before the menstrual periods resume. If pregnancy is undesired, birth control (contraception) should be used, even if the menstrual cycles have not resumed.
Permanent cessation of menstrual cycles (premature menopause)
Menopause (the permanent cessation of menstrual cycles) occurs at an average age of 51. Females who were menstruating prior to their therapy sometimes develop ovarian failure as a result of their treatment and never resume menstrual cycles. Others may resume menstrual cycles, but then stop menstruating much earlier than would normally be expected.
Lack of female hormones
Females with ovarian failure do not make enough oestrogen. Oestrogen is needed for functions other than reproduction – it is very important for maintaining strong healthy bones, a healthy heart, and overall well-being. Women with ovarian failure may benefit from hormone replacement therapy.
Infertility
Infertility is the inability to achieve a pregnancy after at least one year of unprotected intercourse. In women, infertility occurs when the ovaries cannot produce eggs (ovarian failure), or when the reproductive organs are unable to sustain a pregnancy. Infertility may be the result of surgery, radiation therapy, chemotherapy, or any combination of these.
There may also be other reasons for infertility that are unrelated to your previous therapy. Women who are infertile should discuss their options with a fertility specialist. The use of donor eggs may be an alternative for some women. Additional options may include adoption of a biologically unrelated child or child-free living.
Pregnancy risks
If fertility is retained after therapy, the risk of problems that a woman may experience during pregnancy, labour, and childbirth may be increased as a result of prior treatments.
The following women may be at increased risk:
Women who had radiation to the whole abdomen, pelvis, lower spine, or total body (TBI) may have an increased risk of miscarriage, premature delivery, or problems during labour.
Women who received anthracycline chemotherapy (such as doxorubicin or daunorubicin), and women who received radiation to the upper abdomen or chest may be at risk for heart problems that can worsen with pregnancy and labour
Women with these risk factors should be followed closely by an obstetrician who is qualified to care for women with high-risk pregnancies. Fortunately, in most cases, there is no increased risk of cancer or birth defects in the children born to these women.
Second cancers
Find out more about second cancers which may affect stem cell transplant patients.
What monitoring is recommended?
Females who have had any treatments that may affect ovarian function should have a yearly check-up that includes careful evaluation of menstrual history, and sexual function. Blood may be tested for hormone levels (FSH, LH, and oestrogen). If any problems are detected, a referral to an endocrinologist (hormone specialist) and/or other specialists may be recommended.
For women with ovarian failure, a bone density test (special type of x-ray) to check for thinning of the bones (osteoporosis) may also be recommended.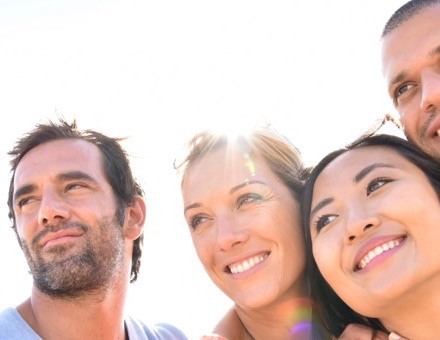 We care for and treat people who have ongoing health problems caused by cancer or cancer treatment.
Find out more